Training at Sally Adams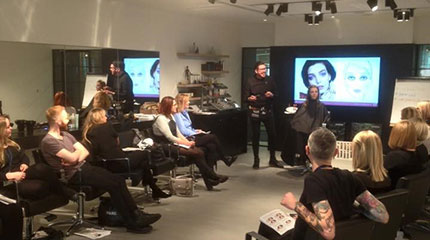 Training and Career development is something we take very seriously at Sally Adams Lifestyle Salon & Spa. Such a program is vital in any company or organisation that aims at progressing its staff and developing as a business. Our program aims to make sure everyone at Sally Adams understands the role they play within our company and provide them the 'tools' to fulfil their roles confidently and professionally.
Our well organised development program helps our team members to develop their existing skills and learn new techniques and further their knowledge bringing them all to a higher level of expertise. All our team members have regular reviews to set goals for their year ahead. Together we focus on areas for development leading each individual to becoming more confident in their own abilities while also inspiring them to offer new techniques or perhaps offer alternative suggestions or ideas for their guests.
Every year our team members attend courses at the Aveda London Academy. Already this year we have had team members attend courses for Mens Cutting and Barbering, Everyday and Editorial Make up, Product Knowledge Days, Business training, Facial training, and of course Cutting and Colouring courses. In addition to the Aveda Academy training, we have also invited specialists into the salon to teach other services such as Indian Head and Hot Stone Massage.
Below are some photos of our team during just a few of the training courses/sessions they have attended so far this year...
Every year we close the salon for one day for a Team Training Day where we take the whole team out of the business for a day. We aim to create a really special day for the team - partly as a 'thank you' for all their hard work but in the main, to develop Sally Adams as a Team. It provides the opportunity to experience and enjoy a day together with a mix of business training and team-building activities - all specifically designed to support the concept of Sally Adams desire to offer outstanding professional service.
Last year we spent the day at Coworth Park in Ascot, as you will see from our Events Page. Coworth Park is a member of the Dorchester Collection of hotels and was a fantastic venue. The hotel provides exemplary service which the whole team got to experience first hand - the sort of service we aim to offer our own clients. This year's team day was held at the lovely Horsley Park & Towers….for more information on what we got up to, please visit our Events page.
Sally Adams In-House Training Program
Every Wednesday we run our training academy for our Apprentices and Graduate Hair Stylists. We currently are looking for 'Bob' models as well as ladies who would like any type of Blow Dry. If you are interested in becoming a model for our training appointments please call us on 01932 865454 or pop into the salon to make your appointment. Please note ALL model appointments are COMPLIMENTARY. Appointments are subject to availability but please note that you do need to allow extra time for these services.